By Kae Takeshita
Part 1
Hands down the hardest thing I have ever done on my bike. I have survived and crushed the Crusher EX . This epic adventure bike race (this year, no mass start. Ride on your own) in UP Michigan is known as the "Enhanced Gravel," but don't be fooled…. This is definitely not anything like you'd imagine by the term "gravel". It's "enhanced" to the point that a gravel bike is definitely NOT going to be your first choice of equipment. There were some gravel roads, I suppose, but overall, it's practically a MTB course.
I knew that going in, but I don't have a MTB or MTB tires / 650b wheelset so I took on this challenge on my trusted gravel rig with my favorite white color GravelKing SK43c . Let's just say, it's like riding a road bike to the super duper hardcore, rockiest, bumpiest, chunkiest, sandiest, longest, hilliest, gnarliest, scariest, whatever-est gravel race/event you can think of. You feel like you rode twice the amount of the actual mileage at the end.  It took me a bit over 33 hours (elapsed time) to finish. No sleep, we rode through the night. I have never been on my bike this long, or past 11pm before. We took our time and it was not a race pace. It was an incredible adventure time with friends in the beautiful forests of UP. 
To tackle this 250 mile course, a small group of us gathered at the trail-head parking by 4:15am local time. I totally forgot the UP is in the eastern time zone until a couple days prior… I woke up at 2am to get ready. Jeez, it's so early in the morning. Planned start was 5am, and we were off by 5:20am. 
Mile 0.3, and Mile 1 : our first wrong turns. 
Mile 2.2 : We literally crawled our way over to the rocky boulders to get to the top. Dennis and Petr helped me to get the bike over. The view was breathtaking and was worth every step of our effort. And it took well over 1hr to get to this point... ONE HOUR to move 2 MILES.
After another tricky entrance to a single track trail, and then more rock crawling (a great view again!), at mile 4, I realized that I lost my cell phone.  I thought I had it secured. We turned around and went back on a single track trail. There were quite many riders, more fellow Crushers, but not a single one of them have seen it. "Dang… our journey literally just started and this...."  It was even on an airplane mode to save the battery so it wouldn't ring even if we called. After we backtracking for a little over a mile, I was about to give up finding it, I did not want to waste anyone's  time any longer…. Then, Petr says "Yeah, I found it!" My phone's 7am alarm was going off in the quietness of the deep woods . Getting back on track! 
Unmaintained loggers' roads, narrow trails, creeks and rivers, large & deep muddy holes were in store for us. I got stuck in one of the mud holes and came to a complete stop, and then sank. The smell of iron filled the air around me. Tons of time was lost as I'd have to dismount and walk some (well..., a lot of) the obstacle filled course. Thanks guys for waiting.
The scenery was absolutely stunning. We were so so so away from everything (away from civilization) deep in the woods. There was no such thing as a cell phone signal, and that's why we were wearing a satellite trackers. Time flew by fast. But the miles? Not so fast. Buy hey, we have all day (and night) to do this, right?  Everything was going pretty well.
Part 2
The first time I visited UP was back in 2016 to race Huron Mountain Crusher by Matt Beardsley. That experience really changed my perspective of an adventure on bike, and I've been wanting to go back. Very glad I was able to be out there for the CrusherEX - Enhanced Gravel this year with a good company,
Quote from Todd Poquette (the mastermind of all this craziness)
"You didn't sign up for a gravel race, you signed up for an ENHANCED gravel race. Putting your bike on your back and carrying it up a rock face, river crossings, chunky descents, jeep trails, riding through waist-deep beaver ponds, sand, mud, bugs, bears, wolves, cats, and moose. Unforgiving and remote wilderness. Forty-degree temperature swings between day and night. Not kidding! You'll climb the highest point in Michigan, cross a river where it meets Superior, and visit the infamous Mosquito Gulch."
Be ready. Be determined. Work together. Every time you reach an obstacle and think WTF, remember we put it there on purpose. Can you get past it, or are ya gonna let the Crusher win? Crush. Or be Crushed! "
A long climb to the top of Mt Arvon was pretty good, I really enjoyed it . 
During the long bumpy descent, I felt I had a much better handle than 4 years ago. Then I got lost in the woods. I thought I was following the others fairly close, then all the branches and fallen trees and whatever was down on the ground blocked me from riding through so I dismounted and walked. I quickly lost their sight. I thought I was going the correct way so I wasn't concerned, and then, the so-called "paths" (looked more like animal tracks to me) disappeared. After walking in all directions, I was finally like, "well, I am lost." 
The view of Lake Superior was fantastic. It looked just like the ocean without the smell of it. The weather could not have been better the day we rode. Being so close to the Lake, some of the sandy roads were REALLY sandy. Being very deep and lasting so long, even with all my fall CX skills put together, I was not able to use any momentum and the sand had an upper hand over me.
In the entire journey, there was only one sizable town we'd go by. Support was allowed so Dan met us a couple of times along the way where the route crosses a main road, and also a fantastic super friendly trail angel Lisa Thompson was out there. We still had to carry lots of stuff on us/bike, like a snorkel  (not joking, it's a required item by the race or you'll be DQ'ed). 
There was a nice paved road going into the town of L'Anse, and that really was a nice break from all the jarring. We got into the town of L'Anse a bit before 10pm, before many stores closed. It was time to get ready for my first all-night ride.
Part 3
In planning for crushing the Crusher, there were many things to consider, but the main concern I had was night riding. First, I am not a big fan of riding in the dark. I don't mind going solo or riding in the uncharted territory. But night riding alone in the deep woods where all the wildlife lives  seemed a lot more than "comfortably uncomfortable" to me. Ummm… definitely need/want someone to ride with…. So while chatting with Petr one day on a ride, I found out he was doing the Crusher along with friends and he said I was welcome to join them. He is the 2019 & 2020 champion of the Iditarod Trail Invitational 1000 Click Here. I felt very assured and even more excited to have a small group. The more the merrier, right? 
It did not get dark until after 10:30pm but once it was dark, it was very very dark. The temperature dropped quite a bit, so we all dressed accordingly before departing from L'Anse. A total of 4 headlights lit up our way fairly well and it seemed like somewhat smooth sailing. Shadows created by our lights made uneven dirt road surfaces look like there were gigantic holes. A little bump looked like a big "wall." Having very little depth perception, we could not see or identify obstacles until they came right by us. I kept reminding myself not to fixate and to keep scanning around. It was hard to tell how fast we were moving when I could not see much. 
For this event, I brought 2 GPS units with me but both were malfunctioning and lost the satellite frequently. I was so glad I was not alone. I would not know where I would have ended up without a properly working GPS especially at night. Oh, and I was told that my satellite tracker was not working well and my "dot" on the tracking map would not show up or not move for a few hours while everyone else's dot was moving. My electronics just did not want to work with me.   
When we stopped for a break, I covered my head light and looked up. "Look, all the stars!!!" It was simply beyond amazing. I have never seen that many stars filling the night sky in my life ever before . We were able to spot the Milky Way as well . Then, I heard a weird noise. Again and again, and more and more. I did know what it was but it sounded like someone was plucking a tight rubber band. "What is that?" (I'll find out later.) 
It felt like so many hours passed. My butt was becoming pretty sore, and it was unbearable to keep sitting on the saddle. I pedaled standing for a while. I was wishing for a soft fluffy cushion between my butt and the saddle. When we finally arrived at the McCormick outhouse (one of the checkpoints), we decided to take a catnap there because all of us were tired and sleepy. We did not want to risk riding off of the roads half-asleep. The boys were laying down on the ground closing their eyes already, but I was not able to get myself to rest at all. It was down to slightly below 50F and I was so cold!  I already had a light layer and a neck gaiter. I took out a jacket from my frame-bag and put it on. I walked around for a bit and sat down. It was good that the ground was not too cold. Pitch black and quiet out there. 
Once the very bright and yellow Moon  was up over the tall tree lines, the view was just like an iffy scene from an old horror movie. If wolves were making their calls in the background, it would have been pretty scary. We did not encounter any but we were told others spotted 3 wolves in the area during the day. 
More and more bumps started appearing, so did twisty roads and some more short ups'n'downs. Some "roads" didn't even look like a place to ride; "THIS is where we go??" 
There was a sharply tall mound where we all had to dismount to go up and over. Good thing we looked down before making another step forward; we would have found ourselves in that big hole  at the bottom filled with water otherwise. Was it a pond?? I am still not sure what it was. 
Then, there was another huge puddle. It looked deep. Going around was not an option so we decided to walk through. Removing socks and shoes made sense this time, I did not want to have soggy shoes for hours to come. I came to a realization that it was my first time removing shoes & socks in the middle of the woods at 4 in the morning. I thought it was comical at that time. 
While putting them back on, I found ourselves surrounded by the orchestra of Bullfrogs . Yes, they were the ones making that funny sound earlier. Frogs are not uncommon in Chicago suburbs but I've never heard this particular calling. I could not stop laughing. 
I kept consuming various foods throughout the night to keep me fueled, but by the time daybreak came, I felt like I had no energy left. Did a couple of gels to get me going, but nada. We had been up over 24 hours already, and it was very hard to keep my focus due to sleep deprivation . Morning was cloudy and much chillier than the previous day. I was moving pretty slow, running on empty, and seeing things that didn't exist. Dennis kept checking on me to make sure I was around as he knew I didn't have a working GPS. A descent called 'Todd's Descent' was supposed to be coming up. "Ummm, sounds dangerous , what is he up to?" Well, once we hit it, I knew it right away. There was no mistake, no need to have it verified. "This is it!" That nasty gnarly high speed twisty long downhill when my brain was not even functioning well. "Kae, wake up! Focus! This is not a good place to be half asleep," said to myself. 
After some roller coaster action, what's next?
The infamous Mosquito Gulch… was getting near, where we would get eaten alive….! The entrance to the Mosquito Gulch was a crossing of the Yellow Dog River. Still feeling a bit chilly, shoes & socks had to come off so I could keep them dry. The rocks underneath were very slippery, not sharp but painful to walk on. Unable to get good footing, I felt like I was stuck, and if I were to go one more step, I'd fall on the side into the water. Not an ideal situation... Greg, who already was on the other side, came back to assist me . He took my bike and I started walking, then I felt something on my right toe…. something black, skinny, slimy, and about 6 inches long was wrapped around my toe!!!! "Waaaaaaaaahhh what the heck is this Get off of meeeeeeeeee" I crossed the river very fast. (I am ok with bugs and critters. I just didn't know what it was!!!)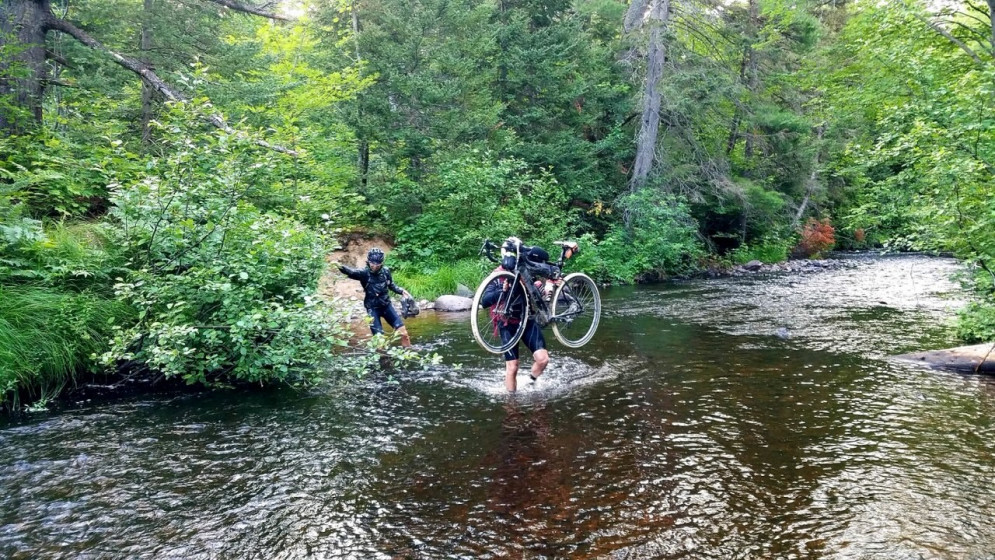 While putting on socks, mosquitoes were starting to gather to welcome us. Probably they were singing a happy song to have a warm breakfast of a few bodies. There was a lot of walking. If you were on a MTB, some of the last half was probably rideable, but that was not the case for me unfortunately. At one point I figured walking was as fast as trying to ride and dismounting here and there. Seemed like I had my bike just so I could carry stuff on it. A long trekking began. Had I not treated all my clothing and used lots of repelling lotion on my skin, I would surely have gotten hundreds of bites; I escaped with just a handful. Annoyance was beyond imagination. "I was here before, wasn't I? (4 years ago) How come I do not remember how bad it was here?!" I almost got lost again…. No No No, definitely the worst nightmare place to be lost WOULD BE HERE. .
Finally out of the mosquito hellhole, Lisa, the trail angel was waving at us. I was not expecting her to be there so I was so delighted .40 miles to go! No, it's not going to be 2 hrs. Think 4 at least...
Part 4 
The Mosquito Gulch  was the 3-mile hike-the-bike (or push-the-bike or drag-the-bike). Petr flew through boulderlike technical downhills on his MTB and he was already way ahead of us . Our next self-designated stop location was about 27 miles away so I figured we'd see him there if not earlier. After getting out of the blood sucking hell on earth and recovered mentally, Greg and I took off in a good spirit. 
The view opened up and the dry road looked smooth and fast. "Nice, looks like I can finally get some speed going. It's been and for a long time!" Less than 0.1 miles later… WRONG! It was a dry fluffy sandy road, too soft for the "skinny" 43c. I've ridden and raced in sand a number of times, but this one was tough. Making very wiggly tire tracks, we were moving pretty slow once again. Once the sand subsided there was a beautiful super wide unpaved road ahead of us. It was so wide and looked like it'd accommodate 5 vehicles side by side easily. It was a very long gradual uphill, I was feeling pretty good and I wanted to hit it hard. But again... I was deceived. The smooth road really was not smooth at all. Its surface was so wavy and just like riding on the washboard for miles and miles. The "waves" reached to the both ends of the road so there was no good line to be in. Every time I pushed the pedals hard, I got bounced back. After fighting it for some time, I finally decided to settle in and ride soft. I've got to pick my battle. 
There was a stretch of paved roads and it was a welcoming break. In my mind I was moving fairly fast but every time I thought the upcoming stop was just around the corner, It was not even close. As I was getting a little impatient, Greg said 7 more miles to go, and that felt like it was one of the longest 7 miles I rode. The road kept going up and up. Turned right and up, turned left and up, turned again and again and up, up, up. It was like there was no end. "What is this? Is this a mountain? Is it ever going to end" And then the surface turned into thick soft sand again and lasted for a long time. It especially felt long as some part of it was unrideable for me. Agggggrrrrrrrrr 
I was basically riding in Zone 1 and 2 pretty much the whole time since we started  and never hit my threshold HR. So as far as the stress on the body goes, it was pretty easy… until it was NOT. The fatigue from the long riding time, lack of sleep, and impact from constant jarring and vibration was real. I was beat up and there was absolutely nothing easy about it! I realized my palms were on fire, too. My aero handlebars were bare carbon, only partially wrapped for the racey looks. Since I never had issues with that I did not even think of putting extra tape for padding before coming to UP. I suspected I would have bruising on my palms by the end of this journey. 
Conveniently, the spot I chose as a stop location had a picnic table. Petr was waiting for us and Dan was there, too, doing a happy dance to see us coming in. We got there a lot later than I initially expected, but there still was several hours to spare to finish before the cut-off time (36 hours given). When I got off the bike, I thought my body parts were going to shutter into pieces. Everything was so stiff and sore, shoulders, neck, arms and legs really tired, knees were hurting, and ooooh my ankles! Why did my ankles even hurt so much??? We stretched, sat down, ate some, and mentally prepared for the last 20 miles to go. It was such a relief to sit on something other than the bike saddle. Dan said my "dot" on the tracking map was not moving since late last night and he considered hiring a local ATV rider to go check on me. I shut off my satellite tracker and restarted once again. I also restarted my GPS and it seemed it was working this time. Plugged it into a battery pack and all good to go! 
As soon as we started moving, I was going backwards. I was incredibly sleepy and I just could not get myself to keep pedaling. I slapped my face a couple of times, yelled and screamed and did everything I could to stay awake. When I finally got to the entrance of (hopefully) the last technical trail, I told Greg who was waiting for me that I was going to take a nap for 10-15 min at one of the trees and he could go ahead without me. He convinced me to keep on going as we were getting close. Thinking back, I am very glad he got me going there, otherwise my 15 min nap could have ended up being a 3-hour nap! 
The last selfie checkpoint was at the Chunky Summit. The combination of latitude and longitude was provided just as all other checkpoints and it was to be right on the course, but it seemed like quite a challenge to find it. It was one of the tens of thousands of trees! The name of "Chunky Summit" did not disappoint us. It was a rock garden with long steep climbs and fast descents, over and over and over. Negotiating good lines on and between chunky rocks and looking at each tree for the sign with the Crusher logo certainly kept me awake. Picture taken, my mission was almost over. Less than 10 miles to go! 
There were many picturesque sceneries along the way. The sunshine was bright and the breeze was nice. I was feeling so grateful to be enjoying myself in such a beautiful place. Took some photos and saw I had a cell phone signal (90% of the course didn't). I texted Dan that I was very close. It should all be easy and downhill from here, maybe only several minutes. 
WRONG again 
Usually, the last few miles of many events tend to be tamer (except for the mountain summit finish), but the Crusher continued trying to crush whomever was on a conquest. A gradual stepping down of very long stretchy…. deep sand… again. I did not even fathom that was where I was supposed to be going until I looked down on my GPS map and saw a purple line right through it. I had to walk most of it. And what goes down goes up, right? Some more climbing to get back to the trailhead!! 
Fun facts- (Only some of them. Can't list them all)
Moments of saying "Why, Todd? WHY?": Too many. Todd is the mastermind behind all of this craziness
Missed turns: Lost count.
Me getting lost : 1.5
Number of landings (aka soft crashes): 3
Distance on foot : 10 miles?
Number of mosquitoes & deer flies: Infinite
Hallucinations: One's imagination has no limit.
Thoughts of quitting: 0...Not even a glimpse of it ever entered in my mind.
Distance covered: 251 miles on the 225 mile course, automatic 10% bonus miles added by Todd.
Elevation gain: 14500 feet
Time elapsed: 33 hrs We took our time to enjoy the journey & the company
Remember... nothing is our "normal" here in the Crusher-land. Before arriving at UP, I had planned to ride 50 miles easy on the Crusher course the next day. I left that idea somewhere in the woods. NO WAY! I AM A CRUSHER!!! It was an elating moment when I saw the end of the trail connected to the trailhead campground parking, the long awaited finish  Emotionally, it was like flipping a switch from a survival mode to a comfort zone, and everything that was hard or fatiguing was like a dream and gone at once. What an amazing feeling! I was really happy to have shared this adventure with my friends. It would have been a totally different experience if I were solo, and far far more difficult without them. Thank you all!
I was a very sleepy and hungry zombie  afterwards. After shower, I just collapsed and took a very long nap. Had a really good sleep that night, too .We went on a hike the next morning before we headed back to Chicago. What a beautiful place it was. I love UP  It's so interesting that I can only recall fun and exciting memories even though this was the roughest and toughest thing I've ever done on bike. Writing about it and reliving it made me want to come back to do it all over again, like next week!! 
Thank you, the CrusherEX for the experience
Kae hails from Sapporo, Japan and currently resides in the Chicago suburbs. She started with local club rides, leading to century rides, some road races & cyclocross, and then discovered her true passion "gravel." Since then she has been riding and racing gravel across many states, and really enjoys the adventurous spirit of gravel and its community. 
If you would like to learn more about the event click here.
Kae hails from Sapporo, Japan and currently resides in the Chicago suburbs. She started with local club rides, leading to century rides, some road races & cyclocross, and then discovered her true passion "gravel." Since then she has been riding and racing gravel across many states, and really enjoys the adventurous spirit of gravel and its community. 
Some of her accomplishments include:
Gravel Worlds (NE) - 1st women 2016
Texas Chainring Massacre (TX) - 1st women 2018
Old Man Winter (CO) - 3rd women 2018
Hilly Billy Roubaix (WV) - 1st women 2018
unPAved (PA) - 3rd women 2018
LR100 n/k/a The MidSouth (OK) - 2nd women 2018 & 2019
DK200 n/k/a Unbound Gravel (KS) - 4th women 2018 & 2019
Epic in Missouri (MO) - 1st women 2017 & 2019
Barry Roubaix (MI) - 1st women 2019
Michigan Coast to Coast (MI) - 2nd women 2019
Crusher in the Tushar (UT) - 10th women 2019
Women Gravel Rider of the Year 2019 by Groadio - The Premier Gravel Cycling & Racing Podcast
Gravel Ranking by PureGravel.com - 1st women 2019
Iowa Wind and Rock (IA) - 1st women 2021
Follow her on Facebook and Instagram.